Joined

Nov 11, 2017
Messages

2
Reaction score

1
I feel like I am in the same boat,
looking for the US version
of this maintenance console. I have found multiple versions of the Panasonic UMC on the internet, I also payed for premium just to try this one, none of them have worked for me. I am trying to work on a KX TDA 100:

I was able to extract the password off of the SD Card, but I am stuck on the UMC setup. On each of the installers I am presented with this requirement, the suffix code:

Obviously my PBX does not have a suffix code, and it will not let you choose "None", so I've just been selecting E/UK. Should I be picking something different? I am constantly receiving this error code while connecting through USB, the drivers are installed: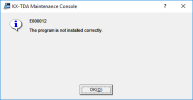 What am I doing wrong or missing? Thank you for your help.
FOUND IT:
US Panasonic PBX Unified Maintenance Console 7.8.1.1_R16 (USA)
Last edited by a moderator: