UPCMCv7.8.1.1_R17
This is the latest version of the Panasonic PBX Maintenance Software.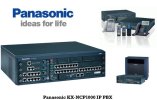 This software will allow you to administer the PBX and edit all configuration parts on Engineer Mode.
This software supports the following PBX hardware:
KX-TDA15
KX-TDA30
KX-TDA100
KX-TDA100D
KX-TDA200
KX-TDA600
KX-TDE100
KX-TDE200
KX-TDE600
KX-NCP500
KX-NCP1000
KX-NS700
KX-NS1000
This is a management and maintenance build it will allow you to login as an installer on the system and program the systems listed above.
THIS IS SERIOUS SOFTWARE - if you do not know what you are doing leave the system alone - you will break something and we will take no responsibility for your actions!
UPCMCv7.8.1.1_R17

US VERSION (FOR AMERICA) HERE:
US Panasonic PBX Unified Maintenance Console 7.8.1.1_R16 (USA)
Click this Link to Discuss File:
Thread Discussion