Download the latest 2018 Mock Exam Simulator Software for the City and Guilds 2395 Exam.
This Simulator will help you pass your Online Exam. Real Questions and Answers From the C&G 2395 AMD 3.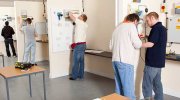 The Exam Simulator will help you on your way to passing your thoery and multiple choice exam.
2395-502 SAMPLE TEST Marking Guide Level 3 Principles, practices and legislation for the periodic inspection, testing and condition reporting of electrical installations Base mark - 90

Guidance on awarding marks for your answers:
Where a question asks for a specific number of items of information, e.g. State three requirements for test leads to comply with GS 38, then only the first three responses given are to be considered for the marks.
Note:
Examiners will only consider the first three answers If a candidate, for example, provides six items then only the first three are considered and last three are ignored, even if they are correct. This avoids giving marks to candidates who guess by writing down everything they think may be relevant Where a question requires a calculation all the calculations need to be shown.
If an error is made then marks can be awarded for correct stages of the calculation. Where further answers rely on the comparison of candidates calculated figures their actual figures are considered and the outcome, if correct based on these figures is correct then marks can be given.
Spelling and grammar are not considered or penalised when awarding marks. However the correct titles of documents, publications and test instruments (as given in GN3) are essential if marks are to be awarded, incorrect titles receive no marks.

Download all our Electrician Exams and guides Here:
Electrical Exam Papers
Download our complete C&G 2395 Tutors and Students Study guide:
City and Guilds 2395 Tutors Guide Inspection and Testing Exam Book (inc Students)
More Study and Guides from the 2395 range we have:
City and Guilds 2395 Exam Past Paper Answers No4
City and Guilds 2395 Exam Past Paper Answers No3
City and Guilds 2395 Exam Past Paper Answers No2
City and Guilds 2395 Exam Past Paper Answers
City & Guilds 2395 written exam workbook
City and Guilds 2395 Exam Scenario Past Paper 1