KNX Exam on the KNX SYSTEM OVERVIEW
These questions and answers will help you pass the KNX BASIC EXAM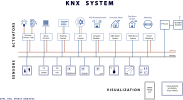 The third exam in the knx / eib series, this exam focuses on the KNX system overview.
There are approximately 80 questions on the KNX system overview part of the exam.
The actual KNX exam has 7 sections, this is the third part. Perfect study guide material and answers
The KNX exam is a true or false exam.
Sample Questions:
134 KNX System overview
By means of the Step/Stop group object a moving blind will be stopped or if the blind is not in motion, the slats position will be adjusted
TRUE
135 KNX System overview
Group objects of different sizes (bit widths) can communicate with each other via the bus without any problem
FALSE
136 KNX System overview
An individual address must only be unique within one TP line. It may be reused in another line
FALSE
137 KNX System overview
The mounting of a central TP power supply unit and choke is needed when devices mounted in that line do not supply the line with sufficient power themselves (distributed power supply).
TRUE
138 KNX System overview
Group objects have to be linked by means of an individual address
FALSE
All KNX Exam Links
1)
KNX EXAM - Question and Answers - No1 - SYSTEM ARGUMENTS
2)
KNX EXAM - Question and Answers - No2 - BUS DEVICES
3)
KNX EXAM - Question and Answers - No3 - SYSTEM OVERVIEW
4)
KNX EXAM - Question and Answers - No4 - INSTALLATION
5)
KNX EXAM - Question and Answers - No5 - TELEGRAMS
6)
KNX EXAM - Question and Answers - No6 - TOPOLOGY
7)
KNX EXAM - Question and Answers - No7 - ETS
8)
KNX EXAM - Question and Answers - No8 - COMMISSIONING