KNX Exam on bus devices.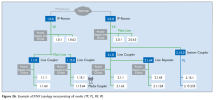 This part of the exam focuses on bus devices, there are approximately 60 questions.
They are based on a true or false statement and you will find they are identical to the actual KNX exam.
Sample Questions:
64 Bus devices
If an application module of manufacturer A can be mechanically mounted on a bus coupling unit of manufacturer B, ETS prevents the downloading of the application program by comparing the manufacturer code of the BCU and the application program
TRUE
65 Bus devices
The version of the system software included in a bus device is indicated by its "mask version"
TRUE
66 Bus devices
Mechanical connection between a KNX TP bus device and the bus is ensured via a bus connector or via contacts to a data rail
TRUE
67 Bus devices
Bus devices can be divided into 3 classes: sensors, actuators and controllers
TRUE
68 Bus devices
Sensors and actuators can always be physically separated into a BCU and an application module
FALSE
All KNX Exam Links
1)
KNX EXAM - Question and Answers - No1 - SYSTEM ARGUMENTS
2)
KNX EXAM - Question and Answers - No2 - BUS DEVICES
3)
KNX EXAM - Question and Answers - No3 - SYSTEM OVERVIEW
4)
KNX EXAM - Question and Answers - No4 - INSTALLATION
5)
KNX EXAM - Question and Answers - No5 - TELEGRAMS
6)
KNX EXAM - Question and Answers - No6 - TOPOLOGY
7)
KNX EXAM - Question and Answers - No7 - ETS
8)
KNX EXAM - Question and Answers - No8 - COMMISSIONING