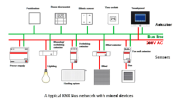 This Download is for the preperation for your KNX exam, there are approximately 60 questions in the first part which is the System and Arguments Section.
This section comes first in the exam.
All questions are TRUE or FALSE.
SAMPLE QUESTIONS:
KNX EXAM 2017: SYSTEM ARGUMENTS – COURTESY OF DIGITALWORLDZ
1 System Arguments
KNX Association was set up to merge the bus systems of LCN, LON and EIB

FALSE
2 System Arguments
KNX Association International has its headquarters in Frankfurt

TRUE
3 System Arguments
In 2003 the KNX standard was approved as European standard EN 50090 x

TRUE
There are 7 SEctions in the Exam and the next Section can be found here:
I will post this Exam Questions later or tomorrow.
All KNX Exam Links
1)
KNX EXAM - Question and Answers - No1 - SYSTEM ARGUMENTS
2)
KNX EXAM - Question and Answers - No2 - BUS DEVICES
3)
KNX EXAM - Question and Answers - No3 - SYSTEM OVERVIEW
4)
KNX EXAM - Question and Answers - No4 - INSTALLATION
5)
KNX EXAM - Question and Answers - No5 - TELEGRAMS
6)
KNX EXAM - Question and Answers - No6 - TOPOLOGY
7)
KNX EXAM - Question and Answers - No7 - ETS
8)
KNX EXAM - Question and Answers - No8 - COMMISSIONING