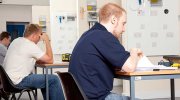 LOOKING FOR A PAST PAPER WITH ANSWERS????
See our latest download here:
City & Guilds 2396 Electrical Design - Past Paper with ANSWERS
These questions are based on the City and Guilds past paper 2396-402, this past exam paper will give potential electrical designers a good base to start on.
Remember the actual exam is 3 hours and has 10 questions, you might think 3 hours for 10 questions is a long time but you will soon find out that you need to explain your answers using the Reg's. and that time will run down very quickly. If you do not know an answer go to the next one and so on then IF you have time go back to the questions you have not answered.
City and Guilds are not looking for copy of the regulations, they are looking for your interpretation and ability to use the Following Non Statutory Books
IET BS 7671
IET Onsite Guide
Guidance Note 3
Guidance Note 1
If you are an Electrical Designer or planning to be, you should own these books and be competent at using them.
Sample Question
An electrical installation within a motor vehicle workshop is to be designed with the protective measure of Automatic Disconnection of Supply. The supply and installation forms a three-phase 400 V TN-C-S system.
Explain the
two
methods of Basic Protection that must apply to all final circuits.
Give
four
examples where Additional Protection by use of an RCD may apply.
Detail the BS 7671 requirements for additional protection by an RCD.
Give
two
examples of circuits that must disconnect within
each
of the following disconnection times.
0.4seconds
5 seconds
Explain how protection against faults may be provided by SELV for the supply to hand held inspection lamps.
6 marks
4 marks
Click this Link to Discuss Download File:
Thread Discussion
Download Our Other City and Guilds 2396 Electrical Design Past Papers
Past Paper:
City & Guilds 2396 Electrical Design Past Paper 2
Past Paper:
City & Guilds 2396 Electrical Design - Past Paper with ANSWERS
Past Paper:
City & Guilds 2396 Electrical Design Past Paper 3
Past Paper:
City and Guilds 2396 Exam Questions and Answers Past Paper 8