ABSOLUTE MUST HAVE FOR ANYONE TAKING THE CITY AND GUILDS 2394 EXAM.
ACTUAL QUESTIONS WITH REAL ANSWERS FROM A C&G 2394 TUTOR.
Level 3 Award in the Initial Verification and Certification of Electrical Installations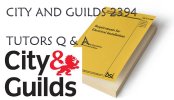 The city and guilds 2394 exam is a closed book exam (Level 3 Award in the Initial Verification and Certification), they will expect you to answer your questions from knowledge of the BS7671 amd 3 2015.

This TUTORS Question and answer papers are based on the actual exam, it not only gives you many answer on the actual 2394 exam but it shows you how you should answer them and which questions should be brief and which questions will require a detailed answer.

Without doubt if you are taking the 2394 then you should have this!

Sample Questions:


Question 18:

Describe how the loss of power might affect the general public

Answer:

Loss of lighting to illuminate hazardous area Loss of power to lifts/escalators etc which is essential for disabled and vulnerable persons.

Potential loss of access/egress; ticket machines, electric doors, barriers etc

General feeling of panic and unease

Question 6:

Briefly describe of the process of carrying out safe isolation.

Answer:

Plan the job, gain permission to isolate where necessary Unplug any equipment that might re-start automatically when the supply is re energised.

Securely isolate the circuit or fuse-board Prove the test instrument

Prove that the equipment/circuit is dead, Re-prove the test instrument

Attach temporary earth leads if necessary. (Necessary for capacitive circuits). Post caution and warning notices Consider the need for additional precautions

Question 13:

Name two items used to make sure an isolated circuit cannot be accidentally switched back on.

Answer:

Padlocks- etc, Withdrawing protective device

More Information on the Tutors Questions and Answers Sheets:

C&G 2394-01

Level 3 Award in the Initial Verification and Certification

of Electrical Installations

(Incorporating BS 7671: 2015 Amd 3)

The City & Guilds 2394 is one of two qualifications which together have replaced the old 2391 qualification (the other qualification is the City & Guilds 2395). The 2394 covers the principles, practices and legislation for the initial verification of electrical installations.

This theory course is delivered over four days and, like many training providers, we have combined the content for the 2394 and 2395 to create one course.

To achieve both qualifications you will need to undertake additional assessments. Most of our delegates choose to study towards both the 2394 and 2395 at the same time but you can choose to complete either just one or both qualifications.

If you wish to have testing qualifications added to your JIB cards, it is important to note that the 2394 and 2395 cannot be added as stand alone qualifications – you would need to achieve both.

DOWNLOAD OUR TUTORS COURSE BOOK:
City and Guilds 2394 Initial Verification - TUTORS Electrician Course Book Latest Amendment 3
The tutors course book is an essential reading to be combined with this TUTORS questions and answers download
We also have a very large selection of downloads for the 2394:
See All:
Initial Verification - City and Guilds 2394 Level