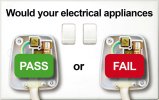 This
download
is a complete all round city and guilds 2377 pat testing portable appliance study guide.
A complete study guide for our members to help them take the pat testing city and guilds 2377, or to brush up on their pat testing skills.
This pat testing city and guilds 2377 download has the following resources:
1. Assessing the Frequency of Testing
2. In Service Testing Guide
3. Pat Testing Legal Requirements
4. Pat Testing In practice
5. Plug Fuses, Plugs in General
6. Portable Appliance Equipment Types
7. Portable Appliance Testing Procedures
8. Pat Testing Record Keeping
9. How To replace Appliance Flexes
10. Test Meter Leads and Definitions
11. Portable Appliance Visual Inspection Guide
12. Who Should Carry Out The Inspection And Testing.
A very complete package for those who are interested in improving their pat testing knowledge and study.
Click This Link To Discuss The File:
Thread Discussion