Joined

Aug 29, 2001
Messages

41,825
Reaction score

12,518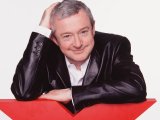 Louis Walsh appears to have quit The X Factor, despite the show having another four weeks left to run.
The music mogul's decision comes after he was drenched by Sharon Osbourne live on last week's show for taking the controversial decision to eliminate Maria and keep the Conways the week before.
Louis, who now has just one act left, was also offended by comments from Simon, who called him an "idiot" in a recent newspaper interview.
"I've been totally humiliated and undermined by both of them," Louis told The Sun today. "This has caused me nothing but stress. The final straw was Sharon with the water and being booed by the audience and then Simon Cowell saying I was an idiot and stupid.
"I've had enough. I'm going back to Dublin. I'm not putting up with it any more."
Simon has since apologised for his comments and is begging Louis to return to the show. "I've been called all sorts of things but taken it in the spirit it was meant," he said. "I've known Louis for years. I know what a huge success he's been. If I offended him I apologise. We want him back."