Joined

Jun 2, 2016
Messages

1,291
Got strange email from microsoft today. I never connect to a network without hiding my IP address. I have PIA "VPN" running on all devices at home.
Theres two ISPs (vermin & BT) running in my home. Most is connected to vermin and BT is used for one purpose only.
Earlier microsoft emailed saying that unusual login details were detected. The IP address was disclosed and the time of login and device.
My son was on the network (vermin)....
(playing xbox with no VPN)
I can not remember the login details as its auto sign in on xbox
AND NEVER ATTEMPTED TO LOGIN AT TIME OUTLINED IN EMAIL.
But the IP address mentioned in the email does make sense as its used by my VPN supplier.
How is this possible there was an attempt to login when no one knows the login details.
Is it possible the VPN is hoping onto my network "via" another device???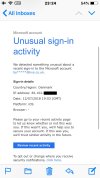 Last edited: