VPN Manager Plugin
This plugin should make it possible for you to switch between different VPN connections.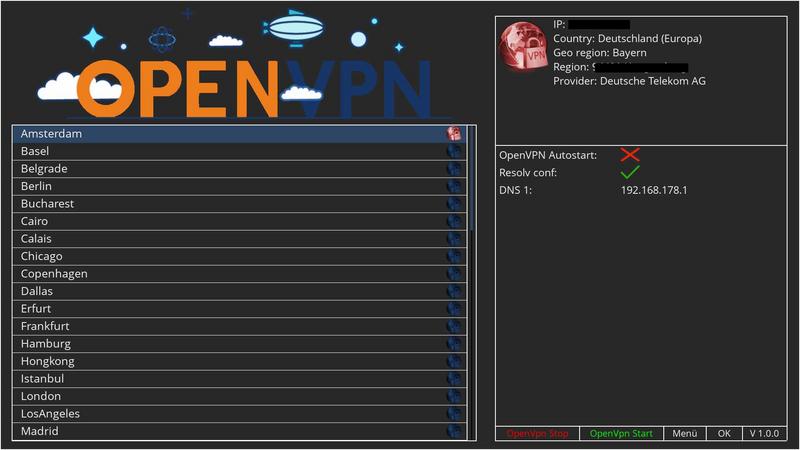 Also, you get several information that will be determined on your IP.
If there is an existing VPN connection, the ping will also be indicated.
Also in the plugin is already an update-resolv-conf with it, so the DNS server of the VPN provider are used.
In order to use the plugin properly, you must note the following.
Creating the configs
- create a folder for this / media / hdd / OpenVPN you can choose this folder name freely.
- for each config that you want to use create another folder / media / hdd / OpenVPN / Amsterdam Amsterdam can be replaced by everything.
In this folder then come the files you get from your VPN provider.
You do not have to rename or customize them if it's an xxxx.conf or xxxx.ovpn.
Set up plugin
- OpenVPN must be stopped before the first start of the plugin
- First, you assign the new created folder in the plugin menu
- Now you have to enter your access data from your VPN provider
- Optionally, you can also set certain DNS server if a VPN connection exists.
But only for users who know what they are doing
OE2.0
OE2.5/OE.2.6 und DreamOS 64
Thanks murxer
​