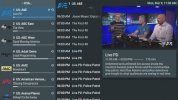 IMPORTANT!
This app is intended for using on TV boxes with remote control. It is not optimized for devices with touch screen. The version for phone and tablets is under development. Thanks for understanding.
Main features:
• Modern user interface designed for big screens
• Support for multiple playlists
• Scheduled TV guide update
• Favorite channels
Important notes:
• TiviMate doesn't include any TV sources, you need to add playlists from your IPTV/OTT provider to be able to watch live TV channels
• Only Android set-top boxes are supported (not intended to run on smartphones and tablets)
Overview:
With TiviMate you can watch live TV channels on Android set-top boxes.