FOX has given the go-ahead to a pilot for a new TV series rooted in the Terminator franchise.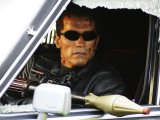 The Sarah Connor Chronicles will track what happened to the character after she went on the run at the end of the second movie. John Connor will also feature.
"She has the weight of the world on her shoulder and she also has to raise a 14-year-old son who may be the salvation of the world," producer James Middleton told Variety.
Although exact details of the plotline have yet to be revealed, Middleton confirmed that the series would have a "connection" to the film franchise but added that it would not affect plans for a fourth big screen outing.
Writer Josh Friedman (War of the Worlds) added: "The last thing I want to do is take a title and exploit it. The show needs to stand on its own while still being respectful of the franchise."
If greenlit, the series would likely air in the 2006-07 season.