Moderator
Staff member
Moderator
Joined

Dec 5, 2006
Messages

9,096
Reaction score

2,124
Location
Here is a way to reset root back Password back to "alpine" right from your iPhone.
Ok lets get started.
What you will need.
iFile from Cydia
.[from sinfuliphonerepo.com]
1. open up iFile and click on the upper left button until you get to "/"
when you get there it should look like this
2.Navigate to the /etc folder
3. Navigate to /etc/master.password file
4. click on the master.password file and open with Text Viewer
5. Click Edit and find the string in the txt that reads "root:" and "mobile" these are the root and mobile passwords but they are encrypted.
6. Change every thing after "root:" all the way until ":" to /smx7MYTQIi2M like this root:/smx7MYTQIi2M
do the same thing to reset the mobile password. mobile:/smx7MYTQIi2M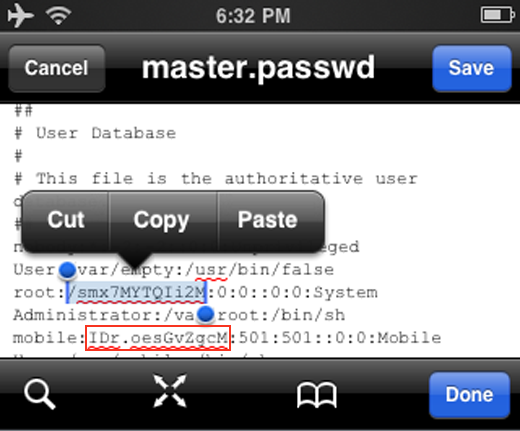 save the file and exit iFile then Respring your iPhone and there you go both your root and mobile passwords have been changed back to alpine.
I recommend that you back up your master.password file before doing this just to be on the safe side as you can see in my SC that i backed mine up and named it master.bak.password.
Thanks to Noxx187 for this guide