Moderator
Staff member
Moderator
Premium Member
Joined

Dec 5, 2006
Messages

9,095
Reaction score

2,118
Location
Host your own website using IIS7.5
Windows 7 comes with a very handy application/tool set called Internet Information Services 7.5 which allows you to use any PC (Home or on a Network) as a server for your newly created website
Note
You will need to register a DNS Host from here for free, purchasing a Domain is Optional
You will also need your IPv4 address, run command prompt (type cmd into the Start Menu) and type ipconfig, scroll up slightly & take note of your IPv4 address. This will be used to configure your router.
Special thanks goes to z3r010 for the majority of this information
Here's How:
Part 1: Acquiring the DNS Host
Go to
No-IP - Dynamic DNS, Static DNS for Your Dynamic IP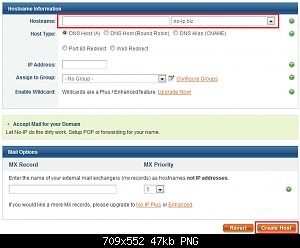 Just enter the name of your website and choose a prefix then click 'Create Host' (highlighted in image)
Note
That is all the info you need to enter to create your DNS Host. It is also recommended that you download their NO-IP software too, as this will manage/sync your host.
Part 2: Installing & Using IIS7.5
1,
Access 'Control Panel, and click 'Programs' followed by 'Turn Windows features on or off'.
2
, Click the checkbox for each of the Internet Information Service toolsets then click 'OK'
Note
: A system restart may be required
3
, Run the IIS Manager - in the Start Menu type "IIS"
4
,
Right-Click on 'Sites' and click 'Add Web Site'
Note
: You may need to 'Expand' the explorer branch to allow you to see 'Sites'
5
, Enter a 'Site Name', this can be anything (E.g. My New Site), 'Phisical Path' (E.g. C:\MY_SITE) and 'HOST Address', this is the address of the HOST you created in step 1 (e.g. my-new-site.no-ip.org) and click OK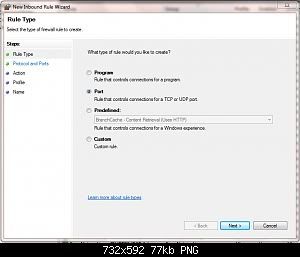 Step 3: Router/Windows Firewall exception
1
, In the Start Menu, type "firewall" and click 'Windows Firewall with Advanced Settings'

2
, Click 'Inbound Rules' then 'New Rule' to start the 'New Rule Wizard. Click 'Port' then 'Next'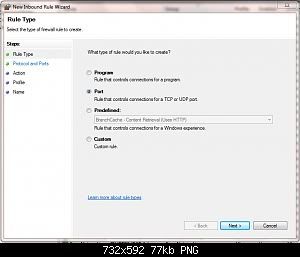 Click 'TCP' and enter port '80' then click 'Next'
Click 'Allow the connection' then click 'Next'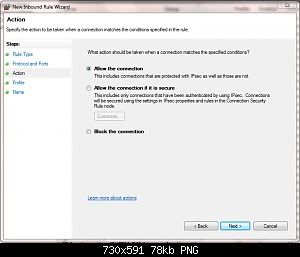 Click the rules that apply, then 'Next'
Lastly, name the new fule & click 'Finish
You will see that the new rule has now been created and you can close Windows firewall
Note
You will need to consult your router documentation for details on how to allow firewall exceptions
The 2 exceptions you will need to configure are
'Outbound service' - Always allow HTTP(TCP:80)
'Inbound Service' - Always allow HTTP(TCP:80) and 'Send to lan server' within that (enter your IPv4 address)
Now when you type the HOST address, e.g.
no-ip.org
you, and others, will be able to access your site.
If you want to add php support etc then the quickest way is to use the Web platform installer:-
Download the Microsoft Web Platform
Last edited by a moderator: