Joined

Mar 5, 2006
Messages

1,173
Reaction score

71
Location
The brides' outfits were borrowed, the bouquets garage-bought. Happy couples beamed for the camera, then minutes later went their separate ways.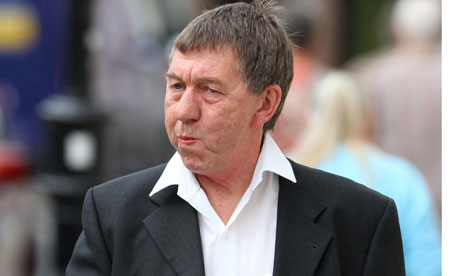 The Rev Alex Brown has been convicted over sham marriages he conducted at his church. Photograph: Gareth Fuller/PA
​
It was the same scene, week after week. Little did passersby suspect they were witnessing not the joyful union of two people in love, but a cynical conveyor belt of sham marriages conducted on an industrial scale in the genteel Sussex seaside town of St Leonards-on-Sea.
Behind the scam, the largest of its kind to be prosecuted in the UK, was the local vicar, pillar of his community and a primary school governor.
The Rev Alex Brown, 61, was convicted of conducting hundreds of fake marriage ceremonies at his East Sussex church to enable illegal African immigrants gain residency in Britain.
In four years he presided over 383 marriages, at least 360 of them sham ceremonies where eastern European women, with rights to live and work in the UK, were paid up to £3,000 each to wed African men, mainly from Nigeria, at the small parish church of St Peter and St Paul.
The brides were recruited by Ukrainian national Vladymyr Buchak, 33, an illegal immigrant working in a sausage factory. The grooms were men about to be deported, many of them known to Nigerian-born solicitor and pastor Michael Adelasoye, 51, through his Ark of Hope evangelical church in nearby Hastings. He would advise them on residency once they were married.
The weddings, which entitled the grooms, often already married with families back home, to stay in the UK, were conducted by Brown usually without the knowledge of his congregation or church wardens.
Brown, Buchak and Adelasoye were convicted at Lewes crown court of conspiring to facilitate the commission of breaches of immigration laws. They were caught following an investigation by the UK Border Agency after caseworkers noticed the huge number of immigration applications from people who married at the church between 2005 and 2009.
At his peak, Brown married up to eight fake couples every Sunday. Ceremonies included couples who produced rings that did not fit, couples who could not speak the same language, and several people who would request to marry one person one week, only to marry someone completely different the next.
One groom married twice in one day. One bride borrowed a wedding gown minutes before her ceremony, changing back in the vestry with her bridal attire then returned to Debenhams.
Hundreds apparently lived in the surrounding streets of the parish, with 90 couples registered as living in one road alone and 52 in another.
The "couples" would usually meet just once prior to their wedding. Envelopes of cash were exchanged immediately after.
From conducting just 13 weddings in four years prior to 2005, the number of ceremonies increased 30-fold in the four years the scam was operating. Meanwhile, earnings for the church rose from £1,000 to £22,000 for the first six months of 2009.
The participants were vulnerable, mainly living in cheap Victorian bedsits that have attracted hundreds of refugees, first from Kosovo and later economic migrants from Latvia, Lithuania and other EU states, drawn to Hastings and St Leonards-on-Sea in the hope of getting work in food-processing factories.
Two years after the surge in ceremonies Brown was summoned to meet the archdeacon of Hastings and Lewes, Philip Jones, to be questioned, and stopped for a short period. But then, apparently satisfied, the Church of England hierarchy allowed him to continue the weddings, which bolstered its ailing finances.
All three had pleaded not guilty. Brown claimed he was a "man of the cloth" carrying out what he saw as his "duty" to marry people. He did, however, admit failing to read out the banns before a church wedding, becoming the first clergyman in the UK to be convicted under the 1949 Marriage Act. He had been worried, the court heard, about alarming his congregation with the sheer number of foreign names.
A police search of his vicarage uncovered documents he had doctored, including the church's electoral roll, to hide the dramatic increase in weddings.
Born in Alnwick, Northumberland, and a talented chorister and solo singer before working as an account clerk in London, Brown was ordained as a priest in 1983, becoming vicar of St Peter and St Paul's several years later.
He "fell in love" with the cavernous red-brick church on a hill by the sea, and was admired by his congregation as he wandered his parish in jeans and drank as a regular in several local pubs.
But as his congregation dwindled to barely a dozen souls and the hierarchy demanded he bolster his church's ailing finances, he hit upon the lucrative plan.
Police remain nonetheless puzzled by Brown's motive, even though officers found more than £7,000 in various envelopes in the run-down building.
If the vicar was driven by money this remained unproven and he explained in his defence that such cash sums were part of a chaotic accounting system within the Church of England.
If he was motivated by a social conscience and a belief that asylum seekers who had lost their cases deserved a chance to stay in the country, and that immigration law, as he put it in his police interview, "was an ass", then he did not make this case in court.
Instead, Brown pleaded ignorance and extraordinary naivety, an argument many of his parishioners continue to believe. "If anything, he's possibly been a bit silly, a bit naive. I find it hard to believe he's deliberately set out to make money," said one local man who knew him well. "He might be gullible but that is the most he's guilty of."
Although Buchak was seen as the principal organiser of the operation, prosecutor David Walbank said there was no doubt that Brown must have been fully aware that the majority of the weddings he was conducting at the church were shams.
Sentencing was adjourned to a later date.
After the verdict, the archdeacon said he was "shocked and saddened" by Brown's betrayal of the church. "The risk of sham weddings is something that clergy are now fully aware of. Our mechanisms have been tightened up in the last three or four years," he said.
Meanwhile, the parish church, now tainted by the scandal, is unlikely to be used as a place of worship again. It will remain closed until a suitable alternative Christian use can be found.
The bride's story
Lithuanian divorcee Elvyra Ziogeviciene was persuaded to go through with a marriage as she was strapped for cash and believed she would be helping someone improve their life. But she knew it was wrong and felt "ashamed" as she shopped for a wedding dress in Debenhams the day before.
She was accompanied to the store by her then husband-to-be, Peter Ojo, and an associate, but had to give the dress back hours after the wedding.
On the day of their wedding she was handed £2,000 in cash by Ojo outside the church before they went inside. She told the court after the wedding she simply went back home with her friend. She bought a car with the £2,000.
Vladymyr Buchak, the scam organiser, had introduced her to her "husband". After agreeing to go ahead with the wedding Ojo was brought to her room in St Leonards-on-Sea.
She said she agreed to the plan because she thought she would be helping someone gain work legally and benefit herself.
Some time after the wedding Buchak called her asking for her payslips and other documents, which she handed over.
Ziogeviciene told the court that she had not seen Ojo for "quite a while". Asked whether she ever lived or intended to live with him as man and wife, she replied: "No."
"I didn't offer to marry. I got the money and I know it was wrong," she said.
By Patrick Barkham and Caroline Davies
Vicar convicted of conducting hundreds of fake weddings at local parish church | UK news | The Guardian