Moderator
Staff member
Moderator
Joined

Dec 5, 2006
Messages

9,096
Reaction score

2,124
Location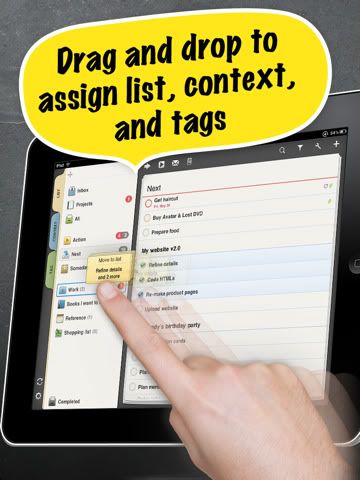 Description
Taska for iPad is a well-thought and elegantly-designed task management app which offers refined and easy-to-use features. Start using Taska now and unleash your potentials of getting things done!
Features:
★ Elegant and highly-integrated UI
★ Drag-and-drop task management!
★ Built for the iPad: instant switching between lists, contexts, or tags
★ Smart focus lists and custom lists
★ Projects & checklists for power users
★ Advanced repeating options
★ Sharing and importing via mail
★ Syncing with Toodledo(TM) and Taska for iPhone via Toodledo(TM)
★ Data backup / restore (via iTunes)
★ Other handy features
✔ Batch editing
✔ Powerful list filters
✔ Searching tasks by title or notes
✔ Instant sorting
✔ Tags
✔ Starred tasks
✔ Task to project / checklist conversion
✔ Application badge options
... and two background themes!
★ Features available in the iPhone / iTouch version and will be available soon in the iPad version:
- Context map
- Password protection
What's new in Version 1.0.8
- Ability to search tasks. Results will show instantly as you type. To start searching, tap the magnifying-glass icon on the toolbar.
- Added a separate "Completed" list which shows all completed items, ordered by completion date. This list is visible when in the LIST tab, located on the bottom. You can also drag-and-drop to / from this list.
- The List tab view now comes in 4 groups:
Group 1: Inbox, Projects, and All
Group 2: Action, Next, and Someday
Group 3: your custom lists
Group 4: Completed
- Removed "Show Completed Tasks for X Days" option. Now completed items will hide themselves automatically after a short period of time. Note: this only applies to top level lists.
- Removed sync confirmation when you tap the sync button.
- Marking a project's all sub-tasks as DONE will no longer mark the project itself as DONE. Marking a project as UNDONE will no longer mark all its sub-tasks as UNDONE. This gives more control over project / sub-tasks management.
- Lists will automatically turn off batch-edit mode when switched from another list. This should prevent possible crashes if you forgot to turn off batch-edit manually.
- Shows last synced time under Settings.
- Changed the icon for 'Action'. Made slight changes to some UI elements, including list icons, checkboxes, and the app icon.
- Bug fix: in some cases deleted items from Toodledo or another device won't sync properly (still exist after sync). This is now fixed.
- Bug fix: strings containing plus signs (+) not syncing correctly.
- Bug fix: list badge counts not updating when a task is checked / unchecked.
- Other minor fixes and improvements.
Download Here