OpenVix 5.3.001 (for Sunray Solo2, Meelo SE & Original VU+ Solo2 only)
This image is a base image only - nothing has been ammended from the original image, apart from driver patch script + protection.
Tested successfully on Sunray Solo 2.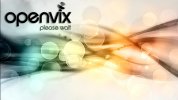 Source Date: 26/08/19
Kernel: 3.13.5
Drivers: 29/04/19 (patched)
Thanks go to ketmp once again for the latest patch script.