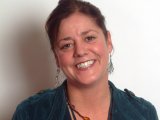 I'm A Celebrity star Elaine Lordan is being kept in hospital for a second night, it has been confirmed.
The actress, who was removed from camp after she collapsed twice on the first day, is thought to be stable but may not return to the show.
"As a purely precautionary measure Elaine is being seen by a second doctor and will remain in hospital for another night," said a spokesperson. "A senior member of the production team will be close at hand throughout her stay in hospital and we will be ensuring that she receives the best possible care.
"We will also be keeping her family abreast of all developments. We obviously wish her a speedy recovery. At this stage we don't know if she'll be returning to the show."