Moderator
Staff member
Moderator
Joined

Dec 5, 2006
Messages

9,096
Reaction score

2,124
Location
HTC Wildfire android
phone has been rooted successfully. PaulOBrien over at Modaco managed to get the root access on HTC Wildfire and has posted an image showing an application called Superuser Permissions on his HTC Wildfire, which is only possible on rooted devices. Rooting Wildfire Android phone provides full access to its system files allowing you to modify the phone firmware and install third party apps, themes and custom ROMs. You can now spruce up your handset with number of third party applications.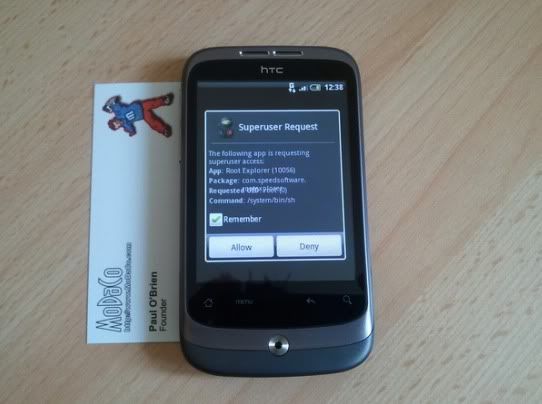 New complexities in posting this root… it's coming tho!", so we can expect the complete rooting instructions for HTC Wildfire soon.
Steps to Root HTC Wildfire Android Phone
Compatibility
This guide will allow you to root your HTC Wildfire, provided it has a bootloader version of 0.80 or below and ROM version 1.14.xxx.x or below. To check this, turn off your device, then turn it back on with the 'back' key held. On the second line in green text you will see HBOOT- and then a number. Provided this is 0.80 or below, this guide should work for you.
What this root process provides
The root process will…
■Wipe your device
■Flash your device with a new, generic 1.14.405.2 ROM that has Superuser access and an insecure boot image
■Flash your recovery
partition with a ClockworkMod recovery (after rooting, install 'ROM Manager' to ensure you have the latest recovery version)
Pre-requisites
In order to complete this guide, you need the following…
■a HTC Wildfire
■a computer running Windows (32 bit recommended, some users have reported issues with x64), OSX or Linux
■a microUSB cable
■a microSD card (to be made into a 'goldcard' – only necessary if your device is an operator supplied device)
■the download below
■balls of steel (actually, I just made that up)
Download
To be ready for the guide, download one of the following items…
- r1 Buzz root files -
Download
Once you have this on your machine, you're ready to start!
The guide
Follow through these steps, one by one and at the end of it you'll have a rooted Wildfire with the latest ROM.
Note: This process will wipe your device and there is currently no option to backup your device ROM before you start.
■Make your microSD card into a goldcard by following these instructions (it's a good idea to back up the contents of your card first!).
■Unzip the file you downloaded to a directory, then open a command prompt / terminal window at that directory.
■Copy the 'update.zip' file to your microSD. Do NOT rename it.
■Turn off your HTC Wildfire , then turn it back on with the optical joystick held down. You'll see 'FASTBOOT' written on the screen in a red box. Connect the phone to the computer.
■In the terminal window, enter either 'step1-windows.bat', './step1-mac.sh' or './step1-linux.sh' as appropriate.
■When this is complete, navigate to the 'BOOTLOADER' and then 'RECOVERY' option on the menu, using the volume buttons to move and the power button to select.
■When a black screen appears with a red triangle, press and hold 'Volume Up' then tap 'Power'.
■Your device should now be at the 'recovery' screen. Select the 'wipe data/factory reset' option, then select the option to 'Apply sdcard:update.zip'. This will take a little while, so go make a nice cup of tea. When the flash has finished, reboot, and you are DONE!
How To Make A Goldcard
This guide explains how to create a GoldCard. A GoldCard is a special SD card which, when inserted into your device, allows you to flash RUU files with a different CID to your own device. For example, if you own a T-Mobile branded device, this will allow you to flash a generic ROM.
Requirements
•Spare microSD card
•Windows PC (recommended)
•ADB (part of the tools folder of the SDK, available for download here
•HxD Hex Editor, available for download here
Step by step instructions
•Format the microSD card to FAT32 format.
•Put the microSD card in your device and boot it.
•Ensure you have unzipped the SDK, then open a command prompt to the extract location. Change to the 'tools directory.
•Enter 'adb shell cat /sys/class/mmc_host/mmc1/mmc1:*/cid' and press enter. You should get a very long number which looks like this: 532600bd227d9c0347329407514d5402.
•Visit this page, paste in your number and reverse it. In our example the result would be 00544d5107943247039c7d22bd002653.
•Visit
This Page
paste in your number and reverse it. In our example the result would be 00544d5107943247039c7d22bd002653.
•Visit
This Page
enter your reversed number and create your goldcard image, which will be e-mailed to you.
•Open the HxD hex editor. If you are using Windows Vista or Windows 7, you must run the application as administrator.
•Go to the 'Extra' menu and select 'Open Disk'. Under physical disk, select Removable Disk (your microSD card), uncheck 'Open as Readonly' and click OK. Note that you should select physical disk NOT the logical disk. This is important!
•Go to the 'Extra' menu again and select 'Open Disk Image'. Open the goldcard image that you received by email.
•You should now have two tabs - one is your removable disk, the other is your goldcard image. Press OK when prompted for 'Sector Size' (selecting 512 (Hard disks/Floppy disks)) and click OK.
•Click on the goldcard image tab. Go to the 'Edit' menu, choose 'Select All' then select the 'Edit' menu again and select 'Copy'.
•Click on the 'Removable Disk' tab. Highlight offset (line) 00000000 to offset (line) 00000170 (including the 00000170 line), then click on the 'Edit' menu and select 'Paste Write'.
•Click on the 'File' menu and select 'Save', accepting the warning.
You now have a goldcard!
I Dont have a HTC Wildfire , can some 1 please test and let me know that this process works, cheers biffo​