Bidding on the new Freeview slot has already reached the £10 million mark, Broadcast reports this week.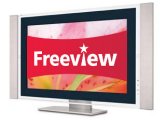 National Grid Wireless (NGW) had placed a guide price of £5.5 million on the eighteen-hour space, which becomes available at the end of the month.
Intense bidding has seen the price almost double, however, with Five thought to be offering "crazy money" to secure the slot.
Other parties include ITV, Channel 4, Disney, Sit Up, MTV, Top-Up TV, Chart Show Group, At The Races, Ideal Shopping Direct, Travel Channel and Quiz TV.
A decision on the slot winner is expected "imminently".