Moderator
Staff member
Moderator
Joined

Dec 5, 2006
Messages

9,096
Reaction score

2,124
Location
>>> THE N°1 IN WESTERN EUROPE <<< FIVE STARS AWARDED BUSINESS TOOL - GET IT NOW for 3GS!
Import business cards directly into your iPhone 3GS contacts. Go for the TECHNOLOGY LEADERS!
PREREQUISITES:
In order to guarantee high quality recognition of your business cards you require:
• iPhone 3GS and OS 3.1 or
• iPhone 2G/3G and OS 3.1 with 3rd party additional lenses (Griffin Clarifi Case)
• iPod Touch 2ndG (picture select from album)
CARDREADER
is the first full-fledged application which converts your iPhone into a mobile and reliable business card scanner – always at the ready whenever you are handed a business card.
Cardreader impresses in everyday business, on trade fairs or conferences by automatically and comfortably reading and adding your new business contact to your iPhone's address book – at the press of a button.
With Cardreader, you snap a photo of the business card or select one from your iPhone album and all contact information is automatically assigned accurate into corresponding address fields.
From now on you can save yourself the hassle of manually entering contact information and leave that chore to the award-winning ABBYY Mobile OCR Engine instead.
Reading address data from other objects like correspondence letterheads is also no challenge with Cardreader. (Recognition of hand-written text is currently not possible!)
SECURITY GUARANTEE
Your sensitive data is well protected from third party access and absolutely safe, because Cardreader does not send any information to the internet. The entire character recognition process is carried out solely on your iPhone. All your confidential data stays safe!
ADDITIONAL VALUE - can do more:
Carry all your business partners' contact information with you all the time – clearly arranged and complete. With Cardreader's own address book interface you can edit scanned business cards, manage existing contacts and even do without the visually reduced standard address book coming with the iPhone. Just to be safe, a photo of each business card is saved for display in your contacts and the 3D card view, whether you want it in portrait or landscape format. Using Cardreader's exclusive 3D card view you can leaf through your business cards quickly and easily.
FUNCTIONS
• automatic card orientation (portrait/landscape) optional
• multi-layered photo stabilization
• automatic image enhancement (in half-light)
• automatic data assignment(name, company, telephone, e-mail etc.)
• flexible data editing/adjustment
• any contact group can be created (group: cards, colleagues etc.)
• automatically adds the business card photo to the contact entry
• 3D card view for leafing through your business cards
• integrated recognition support for 15 languages
(dictionaries must be activated after initial installation or before referencing them!)
DICTIONARYS
Language recognition for:
• English, German, Dutch, Spanish, Italian, French, Portuguese, Portuguese (Brazilian), Swedish, Danish, Finnish, Norse (Bokmal), Norse (Nynorsk), Turkish, Indonesian
USER INTERACE
• English
• German
NOTES to get successful:
• Cardreader provides highest quality text recognition for business cards if you make a well-lit, in focus photo of your high-contrast card. Daylight is recommended to reduce shadows or reflexions.
• Before you start scanning your business cards, please configure the app and activate the dictionaries you require for text recognition. The dictionaries are activated in Settings menu, which you can reach via the Info-symbol.
• Please mind the correct card orientation (landscape/portrait) when making the photo indicated by the HEAD-SYMBOL BUTTON.
Should Cardreader not be able to recognize any text, set HEAD-BUTTON indentical with letters on your card and try again!
SUPPORT
Internet: x-root apps: Apps overview
Email:
[email protected]
What's new in Version 1.2.3
- groups sorted alphabetically
- "(0)" in phone numbers are removed automatically
- minor bugfixes
Screenshots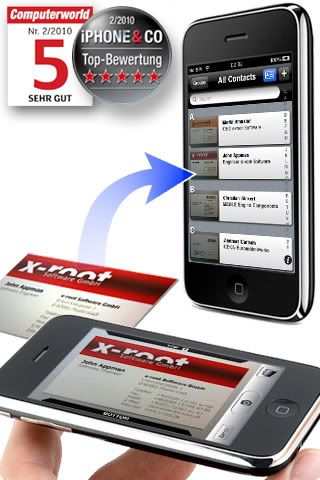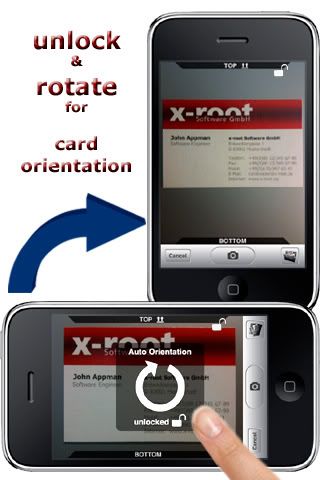 DOWNLOAD
Download option1
Download option2