City and Guilds 2394 Level 3 Initial Verification.
DOWNLOAD OUR COLLEGE TUTORS COURSE BOOK FOR 2394 AMD 3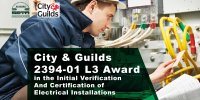 This city and guilds 2394 initial verification and certification or electrical installations book is brilliant reading material for all electricians bruising up on there installation skills.
You will learn about safe isolation and the health and safety scope of works required in your upcoming C&G 2394 exam. This book is an actual tutor made handbook for electricians - it is designed to push electricians through there exam and give valuable information on initial verification.
This qualification is ideal for contractors and electricians already working in industry but needing to learn all about initial / fundamental inspection & testing. All electricians should have basic knowledge of electrical science and experience of electrical installation.
This qualification is suitable for those with some experience of inspection and testing. It could be that you trained many years ago but haven't used your electricians skills since then or you have been carrying out inspection and testing but haven't formally trained in the process and practical skills required.
KEY AREAS COVERED IN THIS BOOK:
Safe isolation of electrical circuits and installations for electricians
Requirements for initial verification of electrical installations
Requirements for completing the inspection of electrical installations prior to their being placed into service
Requirements for the safe testing and commissioning of electrical installations
Requirements for testing before circuits are energised
Requirements for testing energised installations
Requirements for the completion of electrical installation certificates and associated documentation
Safety of systems and equipment prior to completion of inspection, testing and commissioning
Inspection of electrical installations prior to them being placed into service
Commissioning electronically systems and equipment
ALSO COVERING:
Electricians Health and Safety requirements
Relevant documentation
Factors that affect conductor resistance values
Common earth fault loop paths
Electrician Methods for verifying protection
Requirements for determining fault current
Electricians procedures for dealing with clients
See Our:
TUTORS C&G 2394 QUESTIONS AND ANSWERS DOWNLOAD.
City and Guilds 2394 Initial Verification - TUTORS Questions and Answers Amendment 3
The tutors question and answers link above is the perfect study aid to go with the TUTORS COURSE BOOK.
Also we have a brilliant downloads section for all Electricians City and Guilds 2394 course work:
Initial Verification - City and Guilds 2394 Level