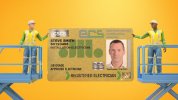 This is a
huge
download with a very large amount of information on the course, and excellent study guide for those that are currently doing the City and Guilds 2357.
This Download covers the following city & guilds 2357 AM2 Modules in full:
Unit 301 - Electrical Health & Safety
Unit 302 - Electrical Environmental Selection
Unit 303 - Electrical Overseeing Work
Unit 304 - Electrical Planning & Design
Unit 305 - Electrical Prep & Installation
Unit 306 - Electrical Connection & Termination
Unit 307 - Electrical Testing & Commissioning
Unit 308 - Electrical Fault Diagnosis
Unit 309 - Electrical Principles
The City and Guilds 2357 AM2 is lengthy course, that will enable potential electricians to learn how to become competent and skilled in the electrical field and often move on to higher positions with further study and work ethic.
City and Guilds 2357 AM2 is perfect for young people to learn how to become and electrician the correct way and also learn the theory behind electrics.
Click This Link To Discuss The File:
Thread Discussion