BETA Lutron HomeWorks QS Lighting Software:

Use this software to program your homeworks QS Processor and the lighting and blinds in your home.
This software if professional software,
any damage caused is at your own risk
. if you are not sure do not download! You should do the Lutron HomeWorks training by lutron if you are interested in the software. The training by lutron is excellent and you will come away with a fantastic knowledge!
Note: The HWQS Palladiom Thermostat firmware (v1.12) packaged with this GUI (12.1) is for Beta use. There will be newer firmware shipping out with production thermostats. Please check firmware revisions on the thermostat before doing a device firmware upgrade / downgrade.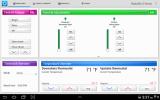 UPDATED:
Downgraded to 10.7.0