Trainee Electricians AM2 2357 Ultimate Study Guide with questions and answers plus full logbook.
Ultimate AM2 C&G 2357 Study guide for trainee electricians exam bundle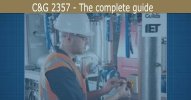 The AM2 City and Guilds 2357 is the quickest way to achieve your JIB Gold Card, you will undertake exams and also practical onsite tests by a qualified assessor. they will visit your workplace and assess your work.
This study we have put together is the ultimate guide to passing and getting that JIB GOLD card.
Included is Questions and Answers that cover the Test Exam.
Logbook so you can get a feel for what you need to complete your course.
Documents that cover all aspects of the AM2 course.
Trainee common Errors - help you to NOT make the mistakes to take it again.
Trainee self assessment checklist - get ready for your 2357 course and exam.
The exam covers the following areas:
• Health & safety
• Building regulations
• Hand tool use & care
• BS 7671 IEE Wiring Regulations
• Motor control & overload protection
• Installation techniques
• Environmental/Sustainable systems
See our Full Questions and Answers Pack here (100's of questions with answers from the actual exams)
160 AM2 City and Guilds 2357 Questions and Answers
Once you pass your AM2 you can apply to the JIB for ECS
JIB GOLD CARDS